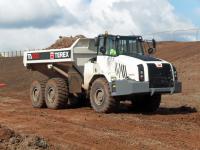 Engineered for the toughest applications around the world, the new Generation 9 range of Terex articulated trucks are powered by Scania® engines which are renowned for high uptime and reliability, underpinned by a worldwide service network. The new range is not only more productive but also more fuel efficient, with a 12% reduction in fuel consumption. Dedicated to reducing downtime, the service points on Terex articulated trucks are designed for quick and easy access. The electronic assisted hood raise and the fully tilting cab simplify access to major components and ground level service points, which further reduces downtime. As well as reduced downtime, lower cost of ownership is a key feature of Terex artic haulers. All models in the Generation 9 range benefit from oil-cooled multiple-disc brakes on each axle providing extended brake component life, reducing service intervals and operating costs, and improving overall braking performance compared to traditional dry-disc brake systems that are fitted as standard on other leading manufacturers' trucks.
The Terex cab is developed around the operator to improve comfort, efficiency and productivity. The new ergonomic cab has reduced interior noise levels, more effective air conditioning, a high-quality sound system, and even a new steering wheel and mirror arrangement. Interior aesthetics have also been updated to anthracite grey with a matte finish to reduce glare and improve durability.
The smallest truck in the range boasts a hauling capacity of 15.5m³ (20.3yd³) and is powered by an impressive 232kW (311hp) engine, making the Gen 9 TA250 the perfect partner for any construction project in the 25-tonne class market. With a 276kW (370hp) engine, the Gen 9 TA300 leads the way as one of the most powerful truck in the 30-tonne class market, and this power combined with a heaped capacity of 17.5m³ (22.9yd³), means the Gen 9 TA300 is one of the most productive articulated trucks available today. Another class leading feature of the updated TA300 is the fully independent front suspension, which is fitted as standard. This innovative design, which is also available as an option on the Gen 9 TA250, greatly reduces operator fatigue and increases machine stability, enabling these machines to excel in rough terrain environments.
Completing the Terex range of Generation 9 articulated trucks is the powerful TA400 which has a maximum payload of 38 tonnes (40 US ton) and a heaped capacity of 23.3m³ (30.3yd³). It has a gross power of 331kW (444hp), and with six forward gears and one reverse in addition to a two speed drop box, the Gen 9 TA400 can travel up to 60 km/h (37.3 mph).