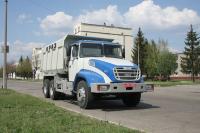 AutoKraz Holding Company from Ukraine has showed a new perspective dump truck KrAZ 18.01 6x4. April 28, 2011 the company began testing of the first prototype of a new truck. The main feature of this model is a 360-horsepower 6-cylinder in-line liquid-cooled engine YMZ-6511, which meats Euro 4 environmental standard. The new engine made by Yaroslavl Motor Factory under the license from Renault company, and is equipped with an exhaust gas recirculation, single-plate clutch MFZ 430, and a manual dual-band transmission 9JS200TA.

The new KrAZ S18.1 uses a plastic integral hood for the first time in history of the factory. The new dashboard, the steering mechanism of the integral type, and other design innovations almost completely redesigned interior of the cabin. There will be different models of dump trucks with 12 and 16 cubic meters dump bodies. KrAZ S18.1 is equipped with reinforced boogie rear suspension and tires with increased capacity.

Developing of the new KrAZ S18.1 is an important step for AutoKraz Company as the next step of creating a new model range, bringing it to conformity with modern requirements. The new generation truck differs from its predecessors by increased working efficiency, fuel efficiency, reduced noise and vibrations. The new model belongs to the fifth generation of conventional KrAZ trucks. It will be presented to Russian consumers at the 12th International exhibition "Construction Equipment and Technologies - 2011" taking place in Moscow from May 31 to June 4.