http://www.hardtuned.com/feature/htshorts/img/ractrans.htmlrnЗдесь рейс-транспортеров навалом, почти 100% изготовлялись "на заказ",rnшасси еще идентифицировать можно, а опознать "кузовщика" весьма затруднительно...

possibly Seddon Pennine bus/coach chassis

Pegaso "Koffer - Bus " for promotion equipment from the late1960ties or early 1970ties.

vehicle is 1971 leyland leopard coach chassis , custom body for brm racing

it is definately a leyland leopard chassis , number plate VTL 753K, its body i think is by sparshatts , it is no longer on the road

Leyland Leopard PSU3B.4R chassis 7200400 1972.The grille badge says DELL .the windscreen is Roe/Park Royal.

It was alive and well in Marlboro colours in2012.The coach builder was a small local firm.Lotus's one was by Marshalls.
Unknown models: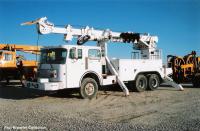 Do you know?
View all »