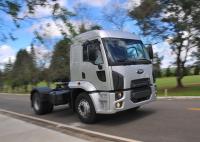 From the very beginning we were following the information about the new Ford Cargo for Latin America. And now, finally, the first official information and photos have been revealed. As became known the new range will include 11 models, 5 of which could be equipped with a sleepr cabin. GVW of the vehicles is 13-31 tonnes. The new generation Cargo has been developed in the design studios in Camaçari (Bahia) and Tatuí (Sao Paulo) with an intensive support from the U.S. and Europe. The New Ford Cargo became the first truck, which was developed by a global engineering system.

Thus, the new range includes the next models: Cargo 1317, Cargo 1517, Cargo 1717, Cargo 2622, Cargo 2628 and Cargo 3122 with a day cab, and Cargo 1722, Cargo 2422, Cargo 2428, Cargo 1932R and Cargo 1932 with day or sleeper cabs. The new generation received a new modern style - beautiful, but functional. External design of the new trucks is common with Ford's passenger cars. Designers tried to make sense of the movement, even when the truck is standing still. Bumpers and fenders are made of durable plastic. To facilitate fillers access the hood climbs at 60 degrees now. The main feature of the new design is trapeziform grille and the baffles above the headlights, designed to optimize an air flow on the sides of the cab.

Inside there are many changes too. This is a new four-point cab's suspension, new transmissions, adjustable steering column, electric power windows, air suspension for seats, improved sound insulation and other. The instrument panel is made from environmentally friendly materials. The dashboard also received several changes. What about the technical equipment? The new line is completed with proven 4- and 6-cylinder Cummins engines. But they are combined with the new synchronized gearboxes Eaton - 6-speed FS series and 13-speed FST series. All models are equipped with more reliable clutch and upgraded braking system. The new generation is equipped with a security system, which automatically locks cabin's doors when reached 8 km/h speed.

As already mentioned before, the prototypes of the new generation Ford Cargo passed totally about 450 000 km on the testing ring in Tatuí and on the roads of South America. About 50 test vehicles and 100 pre-production samples were built, which were later destroyed. It is reported that sales of new Ford Cargo will begin in May.