это скорее всего WHITE Super Power 3000 конца 40х годов выпуска.

Saviem

This looks more like a Somua. It is a French truck anyway.

Renault

il s'agit d'un Somua JL 17 carrosserie "Cottard"

willime

Somua seems most likely the fronr bumper and headlights are the points I have matched with other pics.

Judging from the drive axle and the front rim it should be a Somua JL 17
with a "Cabine Cottard".
It's certainly not a Willème, they had absolutly different front hubs.

What is for certain is that it is a Pinders Circus lorry in the famous yellow and red colouring. I believe a Corgi model of this exists as more by French toy/model makers.
Unknown models: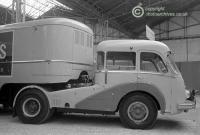 Do you know?
View all »