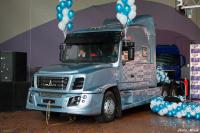 On the last day of May in the Minsk Football Manege was held a conference and exhibition of the Belarusian Association of International Road Carriers. In August last year MAZ presented the first bonneted prototype MAZ 6440 RA. Ten months later at the BAMAP 2012 the company unveiled a second version of this model. The main difference of the second version is a revised exterior.

Hastily laid exterior design of the first prototype with an ugly fiberglass hood roughly fitted to a tilt cab from MAZ-6440 is changed by more harmonious and attractive lines of the second version. Unnecessary handles were gone, while a grille with horizontal slats looks much better. Completely redesigned fiberglass bumper with integrated headlights looks a little better, especially in tandem with the updated "nose." In addition, during the presentation of the first generation MAZ 6440 RA, managers of MAZ company promised to install on this model American styled sleeper. So the second prototype received an extended cabin with huge sleeper compartment.

Otherwise, there are no major changes. MAZ 6440 RA is designed to work as a train with GVW up to 63 tonnes with a maximum capacity of 44.700 kg. The truck is equipped with a custom-made engine MMZ D-283.4E4-22 with a power of 440 kWt (600 hp), six-speed automatic gearbox Allison 4500R, air suspension and cruise control. Ideally, the Minsk motor is soon to be replaced by a foreign unit Mercedes-Benz. More surprising to me the fact, that the truck is too heavy: curb weight is 11.15 tonnes, while a serial cabover MAZ (6x4) weights no more than 9.6 tonnes. It is not clear why this truck is made. It is technically can run trains with GCW up to 63 tons, but by the laws of the CIS (the limit of 38 tonnes) it cannot? Plus the price is 40-50% higher than a mass three-axle tractor.