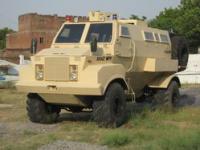 "AvtoKrAZ" in partnership with Indian company SHRI LAKSHMI DEFENCE SOLUTIONS LTD (SLDSL), (Kanpur city) created a new armored vehicle KrAZ-01-1-11/SLDSL. The base for this armored vehicle became an all-wheel drive chassis KrAZ-5233VE 4x4 with the right-hand drive steering wheel, equipped with a 330-horsepower engine JAMZ-238DE2. Indian experts made armoring of important components - cabin, power plant, fuel tanks, battery, transmission and the transport module.

KrAZ-01-1-11/SLDSL is a multipurpose armored personnel carrier intended for timely delivery of personnel and they fire support. It can be also used as a carrier of various weapons and military equipment. Protection provides by a solid body reinforced by armored steel, double doors and side walls, with the space between them is filled with blast material of 25 mm thick, special floor design consisted of three walls forming a V-shaped bottom.

The armored vehicle KRAZ-01-1-11/SLDSL is designed to transport 12 soldiers. It is equipped with a rotary turret Rigel MK1 with 360° angle of rotation, eight embrasures inside the vehicle and communication equipment: audio and visual monitoring system with 360° angle and cameras (night vision and rear view). The level of protection of side walls, bulletproof glass armor and engine compartment corresponds to the STANAG 4569 3A level. Explosion proof material of the floor and side walls THIKA MINEPLATE exceeds the requirements of NATO STANAG 4569 level 2.