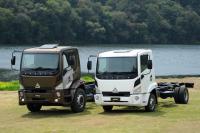 The Agrale company showcased the new generation of trucks at the Fenatran 2011 show, which received an updated cabins, new engines (we have already wrote about this) and more advanced electronics. New fenders, bumper and front end panel is made of ABS plastic to reduce the overall weight. Cabs were updated internally also. The interior is more comfortable, ergonomic driving position has been optimized, and the standard equipment includes trip computer, electric windows and rear mirrors, cruise control, air conditioning and a unique daylight illumination system, which works even in daytime. The new instrument panel includes more sensors, providing the full control of the truck.
The need to comply the new environmental regulations Proconve P7 (analogue of Euro 5) has led to equipping of new engines. Buyers can choose between a 3.8-liter Cummins ISF and 4.8-liter MWM International MaxxFORCE. Both use the SCR system, based on ARLA 32 technology (AdBlue). By the way, the new environmental regulations require the reduction of emissions of harmful particles by 80% and NOx by 60% compared to previous standards CONAPA P5.
The new lineup includes five models - 6500, 8700, 10000, 14000 and 14000 6x2. The lightest in the range is Agrale 6500 with a 3.8-liter Cummins ISF rated at 152 hp at 2600 rev/min and torque of 450 Nm at 1500 rev/min. Gearbox is 5-speed manual. Two wheelbases are available - 3350 and 3900 mm. Heavier model Agrale 8700 with the same engine has a load capacity of 5250 kg and wheelbase of 4200 mm. It can also be in tractor truck version 8700TR with a wheelbase of 2920 mm. Heavy duty model Agrale 10000 has a payload of 6280 kg. There is the MWM MaxxForce engine under the hood with a power of 165 hp at 2200 r/min and torque of 600 Nm at 1200 r/min. Gearbox is Eaton, and it used an air brakes. Available wheelbases are 3750 and 4350 mm. The heaviest model in the new range is the Agrale 14000 with the MWM MaxxForce engine rated at 190 hp at 2200 r/min and torque of 720 Nm at 1200 r/min. Gearbox is 6-speed manual Eaton, and air brakes are used. Wheelbase is 3560 or 4800 mm. Payload is 8940 kg. This model is also available as a 3-axle version 14000 6x2 with GVW of 22000 kg.