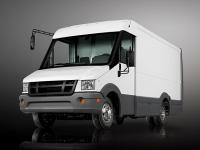 Isuzu Commercial Truck of America, Inc., distributor of America's best-selling low-cab-forward trucks, and Utilimaster, Inc., a category leading manufacturer of specialty chassis and vehicles, unveiled the commercial step-vah Reach™ at The Work Truck Show 2011 in Indianapolis. Utilimaster Corporation designed the van body on the chassis of Isuzu NPR ECO-MAX, powered by well known Isuzu's 3.0-liter 4JJ1-TC turbocharged diesel engine providing 150 hp. These van has a 35 percent better fuel economy than a traditional commercial van. The engine has a selective catalytic reduction (SCR) technology, which injects Diesel Exhaust Fluid (DEF) into the hot exhaust stream to reduce nitrogen oxide emissions by over 85 percent.
"The Reach is the ideal walk-in van for today's market because its Isuzu powertrain offers incredible fuel efficiency and proven durability, and its frame, suspension, steering and braking systems are true commercial grade, not just beefed passenger van components" said Shaun Skinner, executive vice president and general manager of Isuzu Commercial Truck of America. "Today's fleet and vocational buyers are looking for low cost of ownership, and the Reach lives up to its name—it reaches a new standard in low cost of ownership that no other commercial van can match."
Below you can watch the videos about features of new Rich step-van and showcase of these truck on NTEA Work Truck Show.