The variant with a domestic turkish made cab. The design a little similar to F8 model.
cab was the o.a.f. design before they were taken over by m.a.n.

I agree with Simon Burke, this is the cab of OAF, as with the cab-presses and tooling of the Bussing-cab MAN must have shipped them to Turkey. In 1990 I have spotted only a few of them, the Bussing-cab was much more around.
Unknown models: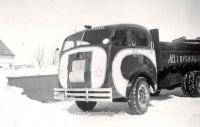 Do you know?
View all »
Recent Comments:
Ashok Leyland » Stallion MkIII / MkIV
24V 21 W and 12V 21W
Mercedes-Benz » L / LA / LK / LF / LS heavy range
Mercedes benz 2624
Chevrolet » Apache 3600 / 3800 '58
need info on a 58 , 3600 Apache, but mine has a factory tag stating a GVW of 6900 lbs. truck to my knowledge never has had a bed on it. original engine was a 6 cylinder , with a 4 speed , that's a compound low first gear .
Hello. I have 2 truks for sale. 1 austin K2 loadstar (i think is military version) and 1 austin K5 4X4 8 ton; both is tow truck. contact me at Laiu_dorinel@yahoo.com