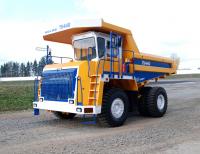 Belarusian factory launched the new model of BelAZ-7540 haul truck, which weighs 32 tons. This model is going to be a successor of the old 30-ton trucks family. The truck is meant for transporting rock formations and other bulk cargos. It will be used on mine fields regardless of the climatic environment.
Under the hood there is an inline-six 15.0L engine Cummins QSX15-C435, which is good enough to produce 440.5 HP. There is also a mechanical-hydraulic drive with 4-wheels torque convertor.
The capacity of the bucket body is 14.5 m³, piled capacity equals to 19.2 m³. The body meets all the requirements of FOP and it is equipped with heating system, which uses end gases from the engine. Maximal load equals to 32 tons. Maximal speed is 65 km/h.