sWS - Шверер Вермахтшлеппер
Производитель Bussing-NAG, здесь показан не бронированный вариант

sWS was produced from December of 1943 to March of 1945 by Büssing-NAG and Tatra. Vehicle was designed as replacement for Sd.Kfz.6 and Sd.Kfz.11, but only 825 were produced Each vehicle had an armoured cab (8 to 15mm). Small number was mounted with 37mm Flak guns (3.7cm FlaK auf sWS) and 150mm Nebelwefer launchers 15cm Panzerwerfer 42 (Zehnling) auf sWS). Majority were mounted with truck type cab, while from mid-1944, number was equipped with factory mounted armoured cab - known as Gepanzerte Ausfuehrung. sWS was build in post-war period in Czechoslovakia as Tatra T809

THIS IS VERY OBVIOUSLY A WWII GERMAN (DEUTSCH) CHASSIS. ALSO NOTABLE IS THE GERMAN OFFICER IN THE VEHICLE. IT IS NOT A TATRA. TATRA IS A CZECH COMPANY THAT USED ONLY 8-WHEEL-DRIVE CHASSIS IN THAT ERA AND WERE HEAVILY USED AS TANK DESTROYERS BY THE GERMANS AFTER THE FALL OF CZECHOSLOVAKIA. IT IS ALSO NOT A BUSSING-NAG WHICH WOULD HAVE HAD 2 AXLES AND WAS USED AS A TANK-TRANSPORTER WHICH CARRIED A LIGHT TANK ON THE BED. BASED ON THE NUMBER OF TRACKS IT APPEARS TO BE AN EARLY CHASSIS. THEY GOT BIGGER WITH MORE AXLES AND MORE ROWS OS WHEELS AS THE CONFLICT WENT ON. THIS COULD EASILY BE A PRE-WAR VEHICLE TEST. THIS WAS ALSO USUALLY THE ONLY TIME THE OFFICER WOULD BE POSITIONED LIKE THIS HANGING OUT OF THE VEHICLE ANALYZING THE VEHICLE/CHASSIS PERFORMANCE.
Unknown models: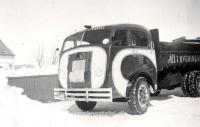 Do you know?
View all »