Водопушка польской милиции, сюрприз Леху Валенсе с его "Солидарностью". На шасси Jelcz/Ельч

SHL-A3-515 "Гидромобиль-1"





В конце 1980-ых – начале 1990-х годов была закуплена партия польских водометных автомобилей SHL A3-515 "Гидромиль-2". В Польше первые водометы "Гидромиль" ("Hydromil<", от слов "гидро" – вода и милиция) были созданы ещё 1973 году на шасси грузовых автомобилей "Star-29" с колесной формулой 4х2.

Водометный автомобиль SHL А3-515 "Гидромиль-2" создан на базе грузового шасси Jelcz-P420 (колесная формула 4х2, двигатель мощностью 240 л.с.) на Келецком заводе специальных автомобилей SHL в 1983 году.

Привод напорного насоса осуществляется от дополнительного двигателя. Спецавтомобиль оснащен двумя верхними и двумя нижними лафетными стволами, имеет бронезащиту кабины экипажа и защитные решетки на окнах кабины. Верхние стволы, с ручным управлением, установлены в поворотных бронированных башенках на крыше кабины, на которых так же установлены светопроблесковые маяки и прожектора; нижние стволы, под бампером, с дистанционным управлением.

Масса снаряженная – 20,2 т., скорость – 60 км/час, емкость цистерны для воды 9000 л., дальность подачи воды: верхние стволы – 50 м, стволы под бампером – 30 м.




english bro...english..

Its clearly a MILICJA 5, one of a series of 12 MILICJA's built for the Sultan of Brunei for his "Ugly Slavic Truck Contest". He won, by the way.

Cyrillic, sis, cyrillic.

polish state police water cannon for civil uprest or english football fans , och aye the noo!!!

This is Polish build Jelcz Hydromil-2, circa 1980 based on Jelcz P420 Chasis.

Orys have right! (y) it's Jelcz P420 Hydromil-2
Unknown models: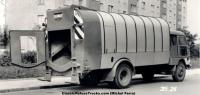 Do you know?
View all »