Вилочник с боковой стрелой, возможно Fantuzzi

Renault Saviem Berliet seal fleatt bed camion form the 60ties - look Dinky Toys ;-)

Может Baumann или Hubtex но никак не Renault Saviem Berliet

Lancer Boss 500 Series Side Loader (Later Steinbock)

It's mitt romney's mama's baby carriage. She's so fat, when she sits around the house, she sits AROUND THE HOUSE. Har har har. His mama is so ugly you think she chewed the lug nuts off a moving Mack truck. She so stupid, she thought he was gonna win.

That's not very nice.

i will agree with anything you say....

Battioni e Pagani или Baumann

This is a 1980s LANCER-BOSS 500 Sideloader Forklift, once known as BOSS Sidelifter with Ford Diesel engine made in Dunstable, Bedfordshire England by BOSS ENGINEERING LIMITED.

Yo Mama so Fat she aint got a Stink-Hole she got a SINK-HOLE!

Looks like a Jumbo "sidewinder" made in Germany. 5,000lb capacity, Gas engine hydrostatic transmission

Lancer sold a lot of to timber merchants,goo bit of kit.

LOVE them all.
Unknown models: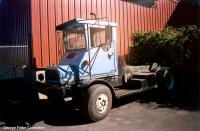 Do you know?
View all »