может ИФА ранняя

Подозреваю Horch/IFA H3 завода "Заксенринг" из Цвиккау, который некоторое время выпускал грузовики, а после открытия заводов в Вердау и Людвигсфельде переключился на "трабанты". У модели Н3 кабина была над двигателем, а Н3А был уже "капотник"

Упс, только заметил, руль то "британский"

At a guess I would say:rnThornycroft (UK)rntype; Nubian (?)rnAirport crash tender

Griffet Camion as the same cabine as Thornycroft. ;-)

Да, это Торник.
http://farm7.staticflickr.com/6202/6129829858_24c60c0cde.jpg
На фотке правда версия 6х6

Thornycroft (no "e") airfield foam tender for aircraft fires.

looking at the axles which are definately bedford twin rear RL , i would say it was a bedford chassis and a carmicheal body

i very very love this site.hts very intresting.and im a truck driver in iran country.zanjan city.

Looks like and old 1950s Mercedes Benz Chassis with a Pre WW2- WW2 German Airforce Base Crash tender

The reg plate is RAF,and the foam gun almost certainly Pyrene.Bedford R most likely modded by Broughton.
Unknown models: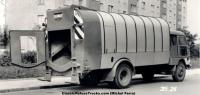 Do you know?
View all »