the truck in picture is volvo.

This truck is a Swedish Tidaholm

По европейским кузовным фирмам надо искать, которые собирали кузова для автобусов (DAB, Den Oudsten, Auto-Heinonen, Autokori, Lahden, Sodomka, Ramseier & Jenzer, Hagglund & Soner, Säffle, HØKA, Berg, Larvik и т.д.).

I think it's an old Magirus Deutz, and from the reg. no, I would say the picture is from somewhere between 1930'th and the 1950'th, and it is a delivery truck from a timber trader in Denmark
Unknown models: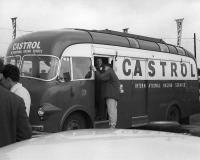 Do you know?
View all »