Комментарии:
volvo alwas best
volvo everlasting

volvo importance of all road

volvo very good

Take a good look, the cab is not old, it's a completely new truck & with all the visible styling clues definitely Volvo, it's an all new FH or whatever it may be called!

volvo its volvo what can i say a ghift of GOD thanks volvo forever

sorry boys but Mercedes Benz still top of my list check out the new MP4

ALAA
Unknown models: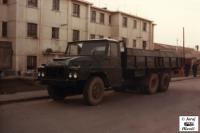 Do you know?
View all »
Recent Comments:
Mercedes-Benz » L / LA / LK / LF / LS heavy range
Hi, I would like some information on the 2624. L series such as the gearbox ley out on the lwb chassis freight vehicle.
Mercedes-Benz » Unimog U300/U400/U500 1st generation
Hi I would like to revamp my 1992 Unimog 1700 Tractor. After 14 years of good service it has returned me. I've been searching for a very long time for a Magazine/catalogue for Unimogs. Something like the "Landy" for Land Rover which I'm sure you are familiar. There is a lot written on old mogs,etc in U.S.&Europe. I'm really talking the mainstream everyday working ones, i.e. 423 &427 series ones. For good used components & attachments.
Chevrolet » Series 60 / 80 Diesel LCF
Oops. No Html code, in fact. Sorry for the mess. The references given above: - the 1962 Chevrolet D60 D60H E80 U80 Diesel Truck Brochure; - the 1962 Chevrolet Diesel Tractor Trailer Truck Brochure.
Hi. I am looking for brake drums for a 2003 MB800.