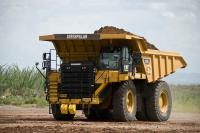 The new Cat® 777G Off-Highway Truck introduces outstanding performance, production and fuel efficiency in the 100-short-ton (91-tonne) size class. The 777 was first introduced by Caterpillar in 1977 and has proven to be a workhorse for mining and large earthmoving customers. The 777G replaces the 777F. The 777G achieves greater production with seven percent more torque powering work and new transmission controls that produce quick haul cycles with automotive quality shifting. The production increases are balanced with new fuel saving strategies that include configurable economy settings as well as an adaptive economy mode that automatically optimizes fuel consumption based on the user's production baseline. Fuel savings also are realized behind the scenes through features such as auto neutral idle and APECS transmission controls where the truck becomes more fuel efficient at idle in a forward gear and when climbing grades. Customers can choose to engage features like Engine Idle Shutdown and speed limiting to further improve fuel savings.
In addition to its fuel efficiency, the 777G is quieter and produces fewer emissions. Caterpillar is introducing its U.S. EPA Tier 4 Final solution on the 777G two years in advance of the effective date of the regulation, which provides customers an opportunity to advance their sustainability goals. For operations outside of areas regulated by the U.S. EPA, the 777G reduces emissions with Tier 2 or EU Stage II equivalent technology and fuel efficiency. Caterpillar has enhanced braking and traction control for G Series. Hydraulic oil-immersed disc brakes are now standard on all four corners of the truck. Design updates extend brake component life by increasing the force used to disengage the brakes. The optional Cat engine brake can extend service brake life and integrates with Automatic Retarder Control, enabling fast downhill travel and reduced cycle times. The new parking brake system actuates the front brakes as well as the rear for solidly holding the truck on a slope.
The 777G also features new designs to enhance the safety and comfort of operators and maintenance personnel. The access system is wider, low effort and convenient with new hand rails promoting three points of contact. Inside the cab, the operator experiences 50 percent less sound compared to the previous model. The Cat Comfort Seat is Series III with vibration reducing technology and a three point restraint system. Object Detection comes standard on the 777G. Using a combination of radars, an in-cab display and multiple cameras, Object Detection provides equipment operators with enhanced awareness for increased site safety. The 777G also offers tire monitoring through use of payload values from the Truck Production Monitoring System and data such as air temperature and truck speed to calculate the load placed on tires.