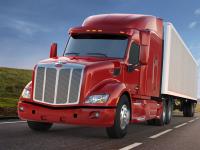 Peterbilt Motors Company unveiled its all-new Model 579 during the Mid-America Trucking Show (MATS). Bill Kozek, Peterbilt general manager, introduced the new model to the crowd, noting that it is the culmination of five years of effort guided by the desire to set new standards for quality, reliability and innovation. "This is the best truck Peterbilt has ever built," he said. The new model will take top spot in the company's model line-up when it begins rolling off the line in Denton, TX this May.
Aerodynamic performance is enhanced through modular aero packages that meet the EPA's SmartWay designation. The aero packages are designed to meet customer optimized requirements, with variable length chassis fairings, sleeper extenders and rubber flares, under-cab close-outs and under-fairing skirts. The aerodynamic bumper is a three-piece design so individual sections can be replaced if they are damaged, to improve serviceability and reduce costs. The bumper is available with a molded-in-color finish that eliminates cosmetic issues if it is scratched or damaged and a painted finish that is durable and can be matched to any color. The aero hood also has a three-piece design that was developed to be lightweight, durable and easy to service. It features the company's most efficient tilt assist system that reduces lift effort to 25 lbs.
Underneath that smooth, aerodynamic exterior there is a tough skeleton. The cab structure is a new design that features greater strength and enhanced safety. The 2.1 meter-wide, aluminum cab is intended to be strong, solid and lightweight. Both cab and sleeper are tested to SAE and ECE crashworthiness standards. The interior of the Model 579 "is designed around the driver," Bill Kozek noted, "and when it is time to rest and relax, the [detachable] sleeper is loaded with practical luxuries including ample storage and an integrated entertainment center that can accommodate a 22-inch flat panel television."
In the cab, the dash is constructed from a soft, durable material and has an integrated tray for convenient storage of often-used items. The standard steering column can be adjusted simultaneously for both tilt and telescoping through a column-mounted lever. Two new steering wheels are available – an 18-in., four-spoke, soft-touch Standard Wheel and the leather-wrapped Premium Wheel, with integrated audio and cruise control buttons. Electrical system integrity was also a key focus during the development of the 579. The result is an all-new system that includes innovative protection and routing design elements.
What about the technical equipment of trucks, they can be equipped with Paccar MX 380-485 hp or Cummins ISX15 400-600 hp engines, which works with Eaton manual or automatic transmissions. Fleet owners and drivers will have an opportunity to see the new model for themselves when the truck goes on its "Legend Continues Tour" beginning on April 24, 2012. It will stop at over 100 Peterbilt dealer locations across the United States and Canada throughout the year.