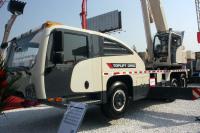 The new Terex Toplift 025G and 055G truck cranes was presented at the BICES 2011 by the Terex Chang Jiang joint venture company. Built in Luzhou, China, the new 25- and 55-tonne class cranes represent the next advancement in bringing Terex design, operation and styling to the China market. Spacious new driver and operator cab designs greatly increase operator comfort and efficiency. The cabs are based on the same designs found on Terex all terrain cranes operating globally. Abundant leg and shoulder room, adjustable suspension seat, ergonomic control placement, and available heating and air conditioning provide the operator with an environment that enhances productivity over extended hours. A new five-section boom design weighs less without sacrificing lift performance. The engines powering both cranes offer the latest in emissions control technology and meet China's National Exhaust Standard IV. Featuring a simple swing out design, the crane's jib is quickly locked into operating position via two pins. Maximum travel speeds of 75 and 77 km/h for the Toplift 025G and 055G respectively reduce transport time to and from the jobsite.
The 25-tonne Terex Toplift 025G features a new transmission that boosts maximum travel speeds by approximately 4 percent over previous class offerings to reduce transport time to jobsites. Once on site, its 39 percent gradeability and 267-mm ground clearance allow the crane to navigate on uneven terrain, so it can be positioned close to the pick. A new enhanced braking system significantly improves braking function and system adjustments. The crane's lightweight but powerful five-section boom offers a 39.05-m fully extended boom length and 39.19-m maximum lift height. Its 8.3-m jib manually swings into position and offers 1- and 30-degree offset positions. With a fully extended boom, maximum lift height extends to 48.4 m when using the jib.
With its 11.1-m base boom length, the Terex Toplift 055G's robust five-section decagonal boom features a 42-m fully extended boom length and maximum 42.14-m lift height. Its swing out jib design extends maximum lift height to 56.6 m. The jib manually swings into position and offers 5-, 15-, and 30-degree offset position. Offering a 55,000-kg lift capacity at a 3-m radius and a maximum 32-m fully extended working radius, this Terex crane efficiently handles a wide range of lifting needs. The Toplift 055G's powerful 247 kW diesel engine meets National Exhaust Standard IV and features a low cold-start temperature of -30° C.