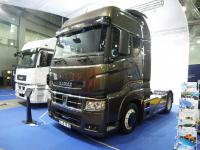 At the 11th international exhibition "Commercial Transport 2011" in Moscow Kamaz has presented with two prototypes with the same index 5490. The main difference in used cabins: one prototype uses the cab from the Mercedes-Benz Axor truck (thanks to cooperation with Daimler), and another prototype has a cabin specifically designed for Kamaz by the South Korean engineering company DMEC. Both cabins are set on an air suspension.

Curb weight of the new models is equal to 7.9 tons and GCW is up to 44 tons. It is planned that the new trucks will be equipped with two turbodiesels to choose from. This is a 440-strong KAMAZ-740.75, or Mercedes-Benz OM 457LA. Also a choice of two transmissions is available - ZF-Ecosplit or ZF-Astronic. Safety is provided by disc brakes with electronic control systems EBS and ESP. The package is also includes a wheel air suspension control system ECAS.

The following year the company will test and adapt new models The serial production will starts from 2013. Probably the version with Axor cab ... It is planned that by using this model Kamaz could place at least 25% of domestic market. Since the cost of new truck is expected at 2.5 million rubles, while the European truck costs from 3 million rubles.