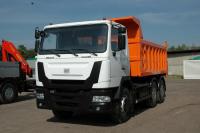 At the 12th International exhibition "Construction Equipment and Technologies-2011" held in Moscow from May 31st to June 4th, the MAZ-MAN company from Belarus introduced the next generation of trucks with a new design of cabins. Finally, the trucks have found their own face.

"For more than ten years of production history, the MAZ-MAN trucks were being equipped with MAZ or MAN cabins. For this reason, customers did not always clearly distinguish our products from the products of our original founders," - says Sales Director of the joint venture MAZ-MAN Stanislav Ivanyushenko. "Outwardly, our trucks were very similar to MAN, then to MAZ trucks. Today we can say that the trucks MAZ-MAN received its own face that makes them attractive to consumers. We would like to see these differences were an independent image in eyes of buyers. We are aware of how serious a step we are doing towards to consumers."

But the change of the design of cabin did not stop engineers. The company claims that this is the new generation of trucks, designed on the basis of modern diesel engines MAN of series D-20 and D-08. And the new family is quite extensively. It includes chassis, dump trucks and tractors.