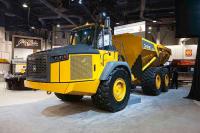 Deere's longstanding partnership and collaboration between its engineers and earthmoving customers has resulted in a significant ADT category innovation: the 460E ADT, Deere's largest, most operator-friendly truck ever built. The 460E is the first of Deere's new E-Series ADTs, due in 2012.
"Customers asked for an ADT with a larger capacity for big hauling jobs," said Mark Oliver, ADT product marketing manager for John Deere Construction & Forestry. "So we worked with them to develop a truck that was purpose-built to reliably handle a 46-ton payload. This joint effort will help big earthmovers move more material faster and more efficiently."
The 460E's design process included a number of heavy-hauling ADT customers that insisted on easy-to-use, productivity enhancing features like an on-board weighing payload scale that delivers real-time data. "An on-board scale lets the operators of both the ADT and loading tool know when the dump body is loaded to capacity by the use of an external light bar that is visible to both operators," Oliver said. "This system lets them know the instant they have a full load, eliminating guesswork and saving time." While most jobs are set up to minimize reversing distances, customers also told Deere they desired faster reverse speeds when long reverse operation cannot be avoided. "There are some situations where a customer will have to drive long distances in reverse," Oliver said. "Faster reverse speeds can mean overall faster cycle times for these customers."
A new John Deere 13.5L, IT4-certified diesel engine and Deere-manufactured axles help round out the powerful package. The Deere engine will be fully supported by John Deere Reman parts and components. The 460E ADT features centralized, ground level service ports for easy and quick serviceability, another customer suggestion. It also retains many of Deere's popular D-Series II ADT features. High-strength, lightweight materials provide the excellent payload-to-weight ratios and hauling efficiencies. The traction controls have been automated to take the guesswork out of when to use the differential locks to simplify operation. When ground conditions get soft and difficult, the system will automatically control the axle differential locks as well as the inter-axle differential lock. An experienced operator can still choose to manually engage the traction controls.
An integrated tire pressure monitoring system helps maximize tire life and fuel efficiency. The standard JDLink Ultimate telematics system lets customers check tire pressures remotely and receive alerts when the pressure gets too low.