Комментарии:
Dongfeng... not Hyundai

It is a new Hyundai truck...exactly right...End of Mar.2013, it will be launched at the Seoul motor show in South Korea...but unfortunately start of sale to customers will be done from May because of final quality development...and of course retail price of CBU may be increased more than 15,000usd...4x2tractor applied with dual fuel tanks as shown pics could be long distance transportation purpose like European tractor...in my personal opinion, overall shape of cabin seems like old model of Benz Actros Megaspace...but It can not be recognized a style of cabin exactly...only It can be imagined...;-)
Unknown models: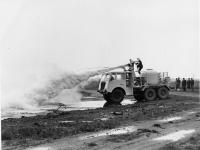 Do you know?
View all »
Recent Comments:
American LaFrance » 700 Series
I've recently acquired a 1956 LaFrance 700 Series (the Canadian version) equipped with a "J7-1775 V12 American LaFrance engine c/w (2) Zenith model 29 carburetors"> Does anyone know where I can acquire/buy a detailed wiring schematics for my truck?? Thanx,,,Russ
Mack » Mid-Liner MS 3rd series
i need to find front end parts 1999 mackmidliner ms250p
Mercedes-Benz » Unimog U300/U400/U500 1st generation
please give me contact person for sales Unimog in Macedonia
I recently found here in Australia a locally made 50 cal AA 'truck roof' mount, dated 1959, and have sourced a photo of it being trialed on a Mk1 'ACCO' truck. I have also just received from the UK, manual WO 10408 showing the same 'original' 1953 UK mount which was intended for the K9 ? - are there any photos of K9's or others with roof AA 50 cal MGs ?