Комментарии:
Dongfeng... not Hyundai

It is a new Hyundai truck...exactly right...End of Mar.2013, it will be launched at the Seoul motor show in South Korea...but unfortunately start of sale to customers will be done from May because of final quality development...and of course retail price of CBU may be increased more than 15,000usd...4x2tractor applied with dual fuel tanks as shown pics could be long distance transportation purpose like European tractor...in my personal opinion, overall shape of cabin seems like old model of Benz Actros Megaspace...but It can not be recognized a style of cabin exactly...only It can be imagined...;-)
Unknown models: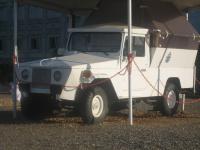 Do you know?
View all »
Recent Comments:
Есть ещё и 1933, 2933, 3343, 4043, 3343, 3643.
The first official shoot of a new Iveco EuroCargo
Lol that happy face, looks dump haha
have a BMC JU250 1968 with an Austin Cambridge 1600 engine. would you know if an MGB GT engine would fit in it ?
Good Day All, We have four units of DAC 4836 dump trucks. Recently two crown and pinion of differential assembly got damaged. Anybody in knowledge of DAC 4836 spares and parts catalog.