Комментарии:
Dongfeng... not Hyundai

It is a new Hyundai truck...exactly right...End of Mar.2013, it will be launched at the Seoul motor show in South Korea...but unfortunately start of sale to customers will be done from May because of final quality development...and of course retail price of CBU may be increased more than 15,000usd...4x2tractor applied with dual fuel tanks as shown pics could be long distance transportation purpose like European tractor...in my personal opinion, overall shape of cabin seems like old model of Benz Actros Megaspace...but It can not be recognized a style of cabin exactly...only It can be imagined...;-)
Unknown models: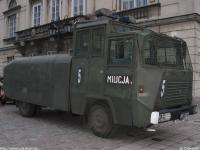 Do you know?
View all »
Recent Comments:
American LaFrance » 400 Senior Series
I have #7757 and need lots of parts for it's restoration. Half of the Centraflow pump is missing. All the gauges are broken and radiator badly damaged by vandalism. Please help if you have anything or know of a source. Also will need all engine gaskets for the big 754 cubic inch "E" type engine.
Terex unveiled the 9th generation articulated truck range
Hello Web Admin, I noticed that your On-Page SEO is is missing a few factors, for one you do not use all three H tags in your post, also I notice that you are not using bold or italics properly in your SEO optimization. On-Page SEO means more now than ever since the new Google update: Panda. No longer are backlinks and simply pinging or sending out a RSS feed the key to getting Google PageRank or Alexa Rankings, You now NEED On-Page SEO. So what is good On-Page SEO?First your keyword must appear in the title.Then it must appear in the URL.You have to optimize your keyword and make sure that it has a nice keyword density of 3-5% in your article with relevant LSI (Latent Semantic Indexing). Then you should spread all H1,H2,H3 tags in your article.Your Keyword should appear in your first paragraph and in the last sentence of the page. You should have relevant usage of Bold and italics of your keyword.There should be one internal link to a page on your blog and you should have one image with an alt tag that has your keyword....wait there's even more Now what if i told you there was a simple Wordpress plugin that does all the On-Page SEO, and automatically for you? That's right AUTOMATICALLY, just watch this 4minute video for more information at. <a href="http://www.SeoOptimizedRankings.com">Seo Plugin</a> seo http://www.SeoOptimizedRankings.com/
American LaFrance » Pioneer III
hi the yellow pioneer heavy rescue truck the first pic second row who has that truck or who owns it now what year is it and who built the rescue box
It's my dream