Комментарии:
Dongfeng... not Hyundai

It is a new Hyundai truck...exactly right...End of Mar.2013, it will be launched at the Seoul motor show in South Korea...but unfortunately start of sale to customers will be done from May because of final quality development...and of course retail price of CBU may be increased more than 15,000usd...4x2tractor applied with dual fuel tanks as shown pics could be long distance transportation purpose like European tractor...in my personal opinion, overall shape of cabin seems like old model of Benz Actros Megaspace...but It can not be recognized a style of cabin exactly...only It can be imagined...;-)
Unknown models: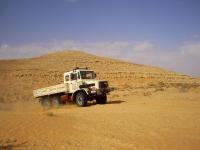 Do you know?
View all »
Recent Comments:
I'm Korean. My dad drive Trago Xcient 520 27ton Dump truck. It is very terrible. Many problems from this car bothers my dad. The best dump truck in Korea is volvo. Many truckers in Korea want volvo fh dump.
As a driver and owner of Kenworths as old as 1973, and as new as 2007, I am a fan of the quality and simplicity of the 900A. They were, and still are, incredible trucks, both in function, and style. Yes, I have driven and owned Peterbilts as old as 1975, as New as 2003. The 359 is clearly a formidable rival. When all the boxes are checked, the 900A comes out on top, then, and now.
I want 8 ton passing in tata ultra truck details
BharatBenz » 2523 / 3123 / 3128 / 4928
Bharatbenz 4023 Model